Hometown Hero CBD Review 2023: Supporting Veterans With Delta 9
Hometown Hero CBD is one of my favorite CBD and THC brands, so much so that they made my top 11 list of best Delta 9 gummies! If you prefer to buy from brands that do good in the world they don't get much better than Hometown Hero CBD, more on this later! Not only is Hometown Hero a great online marketplace for CBD, THC, Delta 8, and Delta 9, but they also make their own products and test them 6 times to ensure the highest (pun intended) quality before they make it to market.
What is Hometown Hero?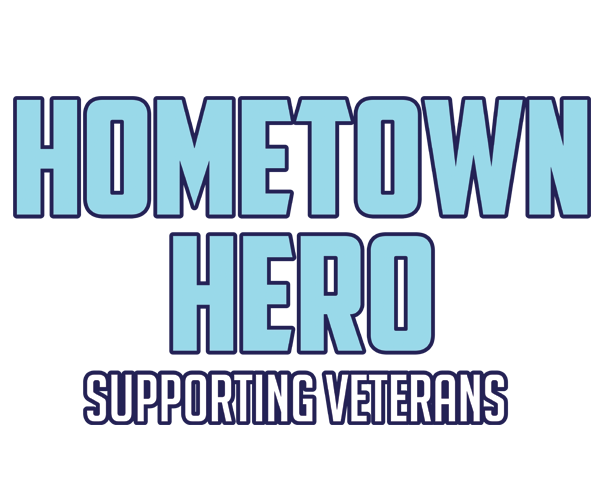 Hometown Hero is a hemp-derived THC producer and seller. They are based in Texas and have been featured in High Times, the New York Times and even created the first THC product that was legal in all 50 states. Hometown Hero prides itself on creating the highest quality hemp-derived products, with a focus on purity, potency, and amazing customer service. But the best thing about Hometown Hero is that a portion of every sale is donated to organizations supporting veterans. How cool is that?
Who Created Hometown Hero?
Hometown Hero was created by two friends, Lukas, a U.S. Coast Guard Veteran, and Lewis in 2015 with the goal of donating a portion of every sale to help support veterans. They noticed a lack of support for veterans suffering from PTSD, physical disabilities, and homelessness and wanted to do something to help, hence the name Hometown Hero.
Not only do they support veterans, but they also fight hard for the legalization of hemp-derived THC products. They've won multiple cases against Delta 8 bans and won. If you want to do good while feeling good, Hometown Hero is the company to support!
Top benefits of Hometown Hero
What gives Hometown Hero an edge over other CBD and THC companies?
Free shipping – Hometown Hero has an agreement with the USPS to ship all of their products. Some private shipping companies will not handle hemp products and may even open your package if they suspect it might contain marijuana. Not the USPS! They operate under strict federal guidelines which allows for the shipment of hemp-based products.
A ton of great products to choose from – They offer CBD, Delta 8, Delta 9, HHC, and THC blends, and all of those come in a variety of different options like gummies, sour candy, baked goods, taffy, flower, tinctures, topicals, and concentrates.
Small batch production – All of Hometown Hero's products are made in small batches. Why? Because it allows them to pay extra close attention to detail to make sure you're getting the best product possible.
High quality – Hometown Hero tests their products 6 times, YES REALLY, before they ever reach the point of sale. On top of that they are D.E.A. lab certified, which is above and beyond most other companies.
14-day guarantee – If you don't like it, send it back and Hometown Hero will give you a credit to their store, no questions asked.
15% discount on subscriptions – Hometown Hero offers 15% savings on subscriptions. If you're a regular user of hemp-derived THC products, you can't go wrong with a money-saving subscription.
Best Features of Hometown Hero
Still not convinced that Hometown Hero is one of the best CBD and hemp-derived THC producers? Let's do a deep dive into their products to show you the good stuff.
Gummies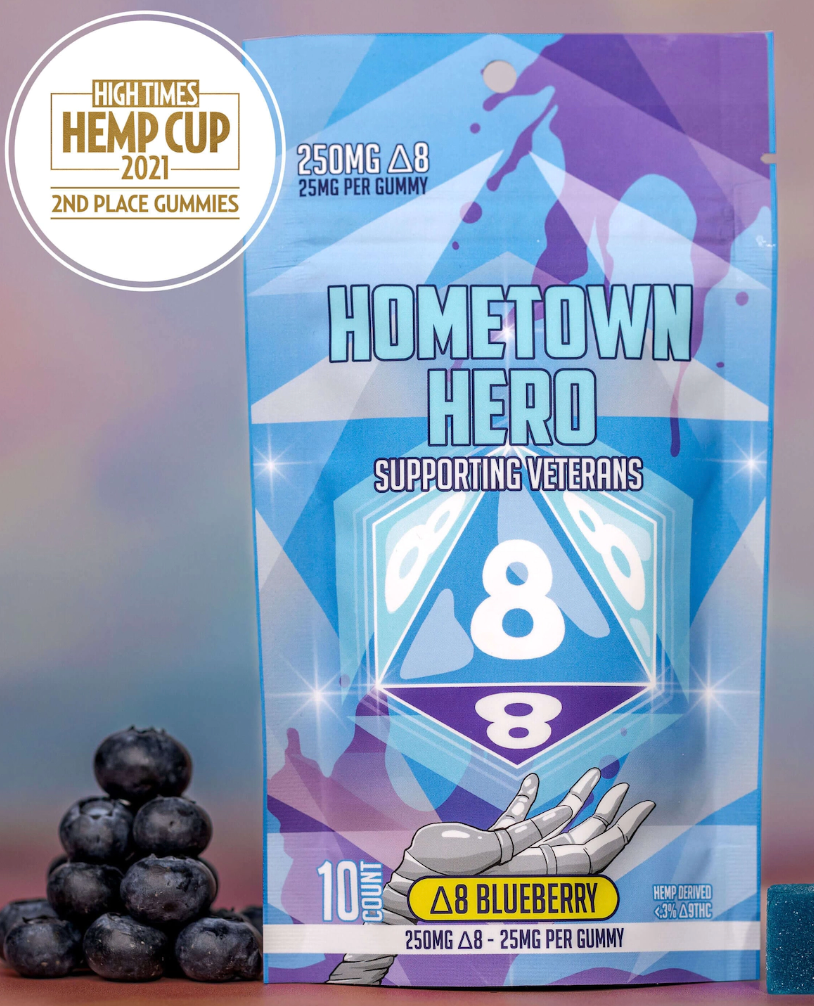 Hometown Hero has over 50 different packages of gummies to choose from, including Delta 8, Delta 9, live rosin, HHC, and even gummies that taste like alcohol! Some select spectrum gummies are in bundles to save you money, while others are sold in individual packages for those of you that know what you like.
Sour Candy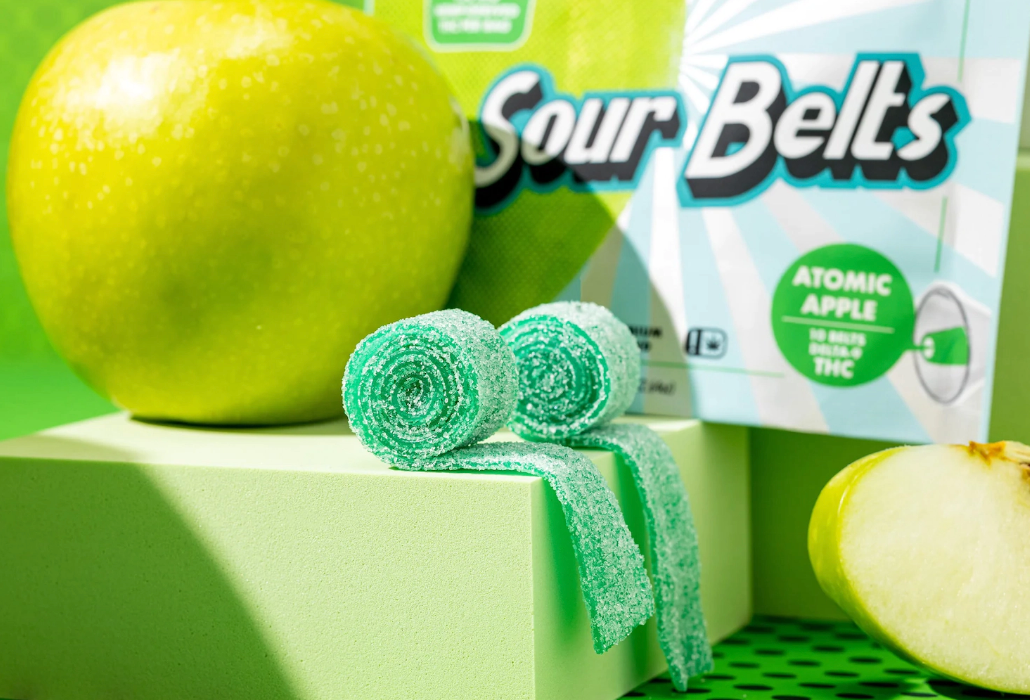 Hometown Hero makes their own sour candy in the form of sour belts (think of it as a fruit by the foot that gets you high), and hard candies. What I love about Hometown Hero's site is every picture of the product tells you exactly how much Delta 8, Delta 9, Delta 10, THCV, and other psychoactive ingredients each piece contains. They have some super strong belts like this pack of Blueberry Burst belts as well as some less potent options.
Baked Goods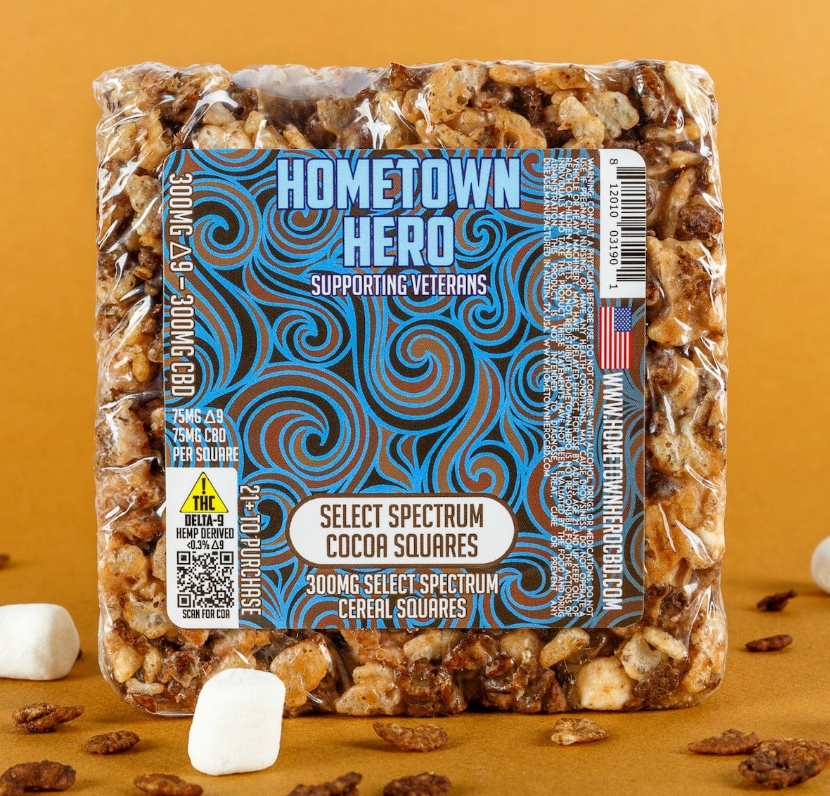 The baked goods from Hometown Hero is my favorite category. Think of rice crispy bars that make you feel really good! They have three different flavors to choose from, cinnamon (like cinnamon toast crunch), rainbow, and cocoa. Each bar contains 300 mg of Delta 9 THC, with the cocoa version containing a 1:1 ratio of 300 mg of Delta 9 and CBD for the entourage effect. If 3000 mg seems like too much for you (and it certainly is too much for one person in my opinion), they score their bars into 75 mg chunks, so you can eat one per day and have enough to last 40 days!
Tinctures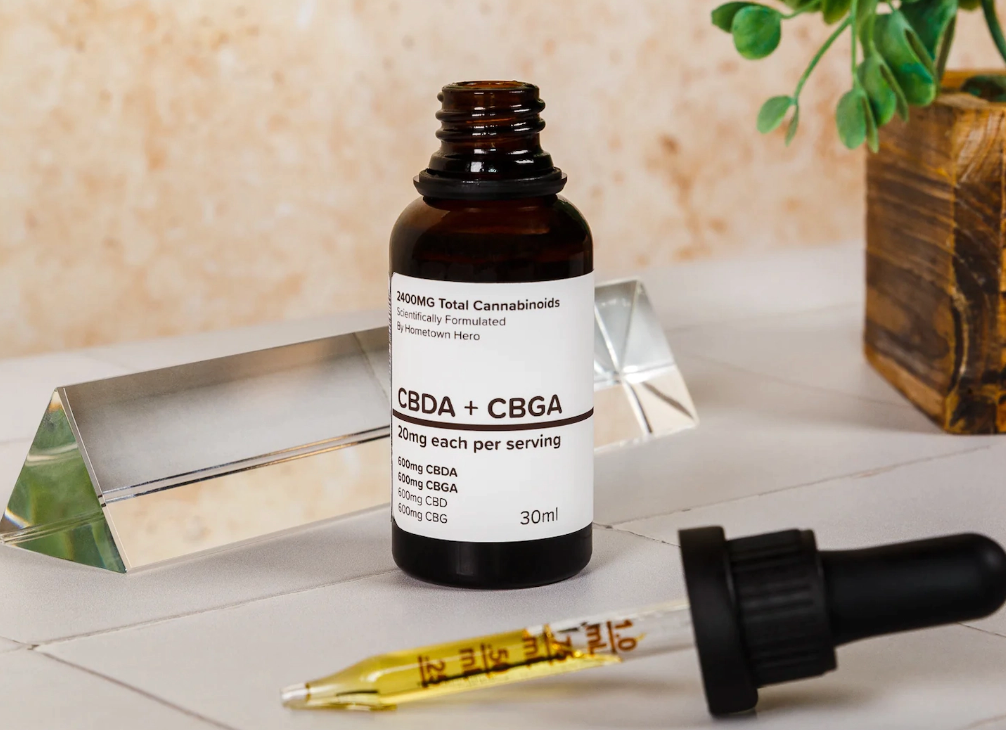 If you prefer taking your Delta 8 or CBD via oil tinctures, Hometown Hero CBD has you covered. They have one of the best CBDA oil tinctures on the market, in fact, it even cracked my top 7 CBDA oils list! Their CBD tincture packs a ton of stress-reducing CBD varieties into one 30 ml bottle. Each vial contains 600 mg of CBD, 600 mg of CBDA, 600 mg of CBGA, and 600 mg of CBG, meaning each 1 ml dropper contains 20 mg of each CBD variety. That's over a 30-day supply in one bottle!
Taffy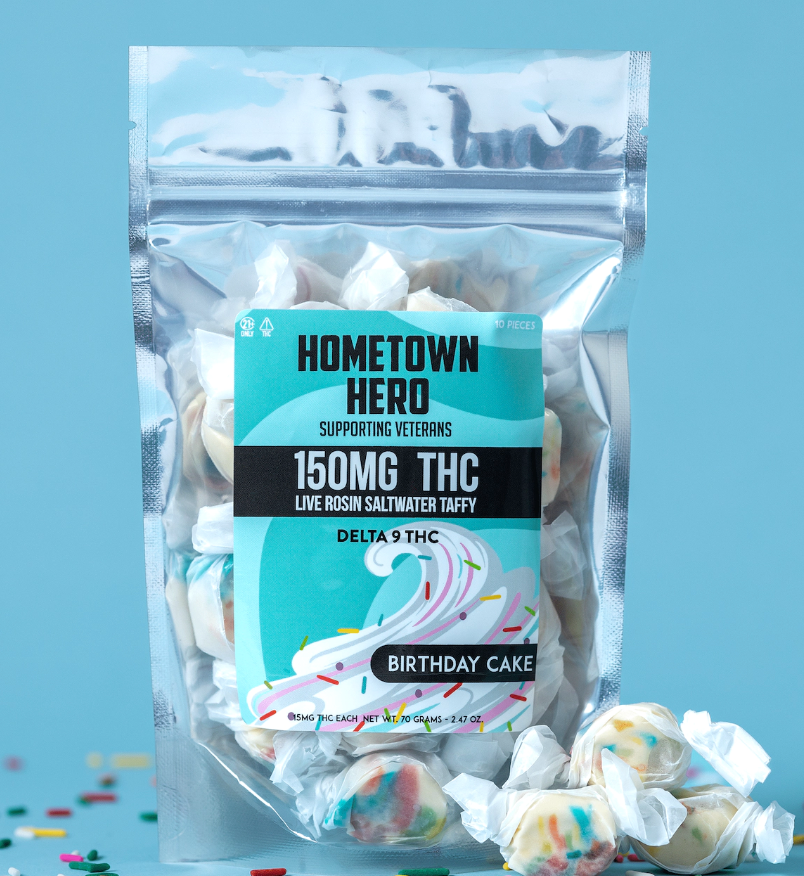 Who doesn't love saltwater taffy? Hometown Hero took taffy to the next level with their Delta 9 taffy. Their THC taffies come in several flavors including Tutti Frutti, Cotton Candy, Birthday Cake, Red Cinnamon Swirl, Caramel, and a mixed bag of each. As with Hometown Hero's other edibles, they offer a mix-and-match multi-pack if you're looking to stock up or have a party. Hometown Hero truly gives a new meaning to "Laughy Taffy".
Flower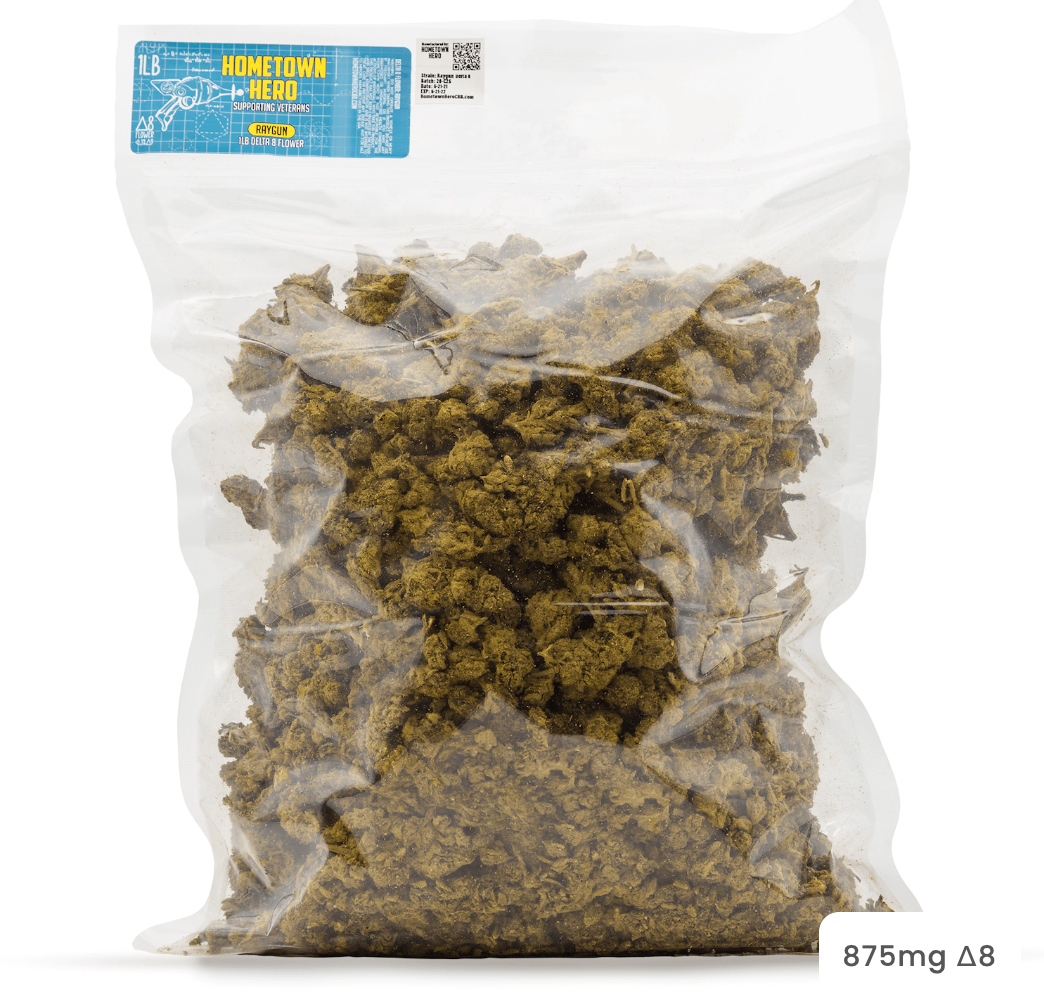 Have you ever wanted to see what one pound of flower looks like? Then you need to get flower from Hometown Hero. They offer smokable hemp flower coated in Delta 8 THC in .25 lb, .5 lb, and 1 lb bags. This is on the spendier side, but if you subscribe you can save 15%, you can really save big. They also offer flower in smaller jars if you're just testing the waters.
Topicals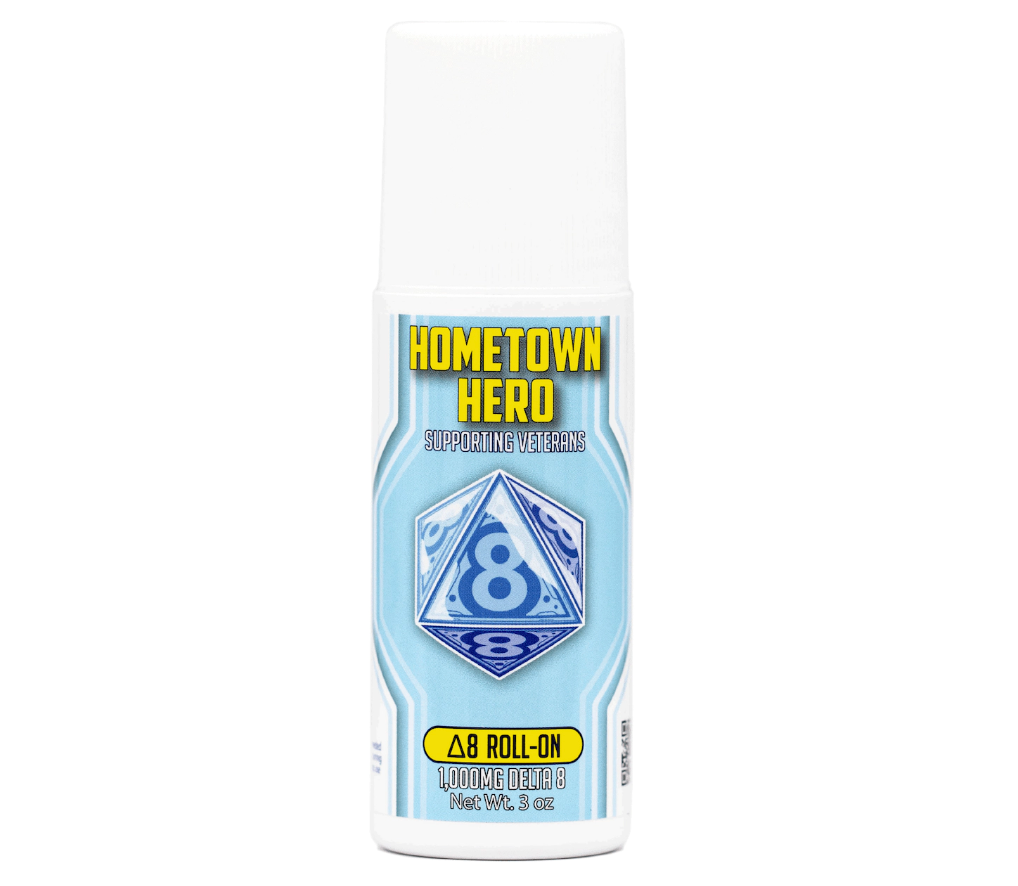 Do you prefer to not ingest your THC Hometown Hero has a roll-on topical option. With the cooling power of menthol and 1000 mg of Delta 8 THC, this roll-on topical option is great for those looking to relieve aches and pains in specific areas while also enjoying the calming effects of Delta 8.
Concentrates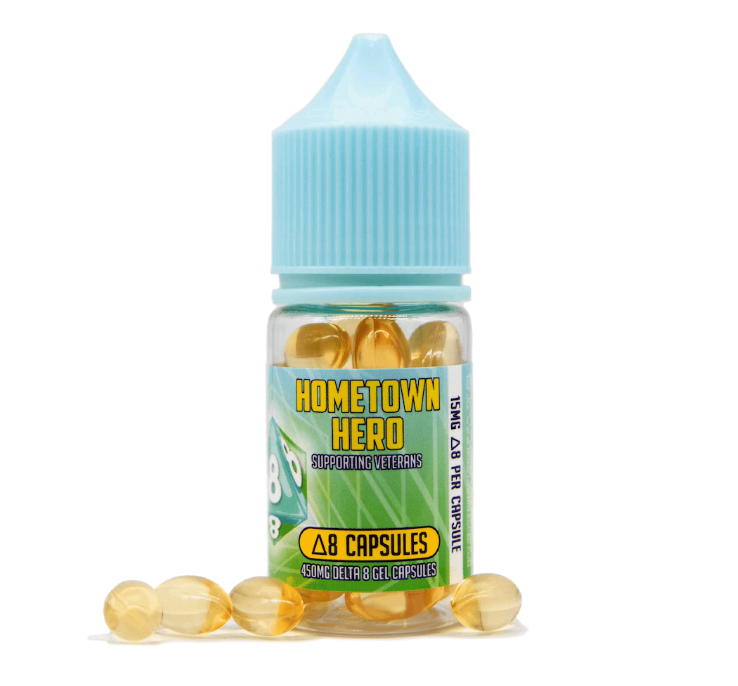 If you want to get the effects of Delta 8 but want to avoid sugar, these Delta 8 capsules from Hometown Hero are perfect! Each capsule contains 15 mg of Delta 8 and is a great way to wind down from a stressful day or to use as a sleep aid. One container has 30 capsules in it which makes it great to use daily and to subscribe to to get Hometown Hero's 15% discount.
Hometown Hero Baked Goods Cost
Since Hometown Hero has so many different products to offer you can check out the pricing of the things you're interested in here: Hometown Hero CBD. For the rest of this post let's focus on my favorite Hometown Hero product, their baked goods!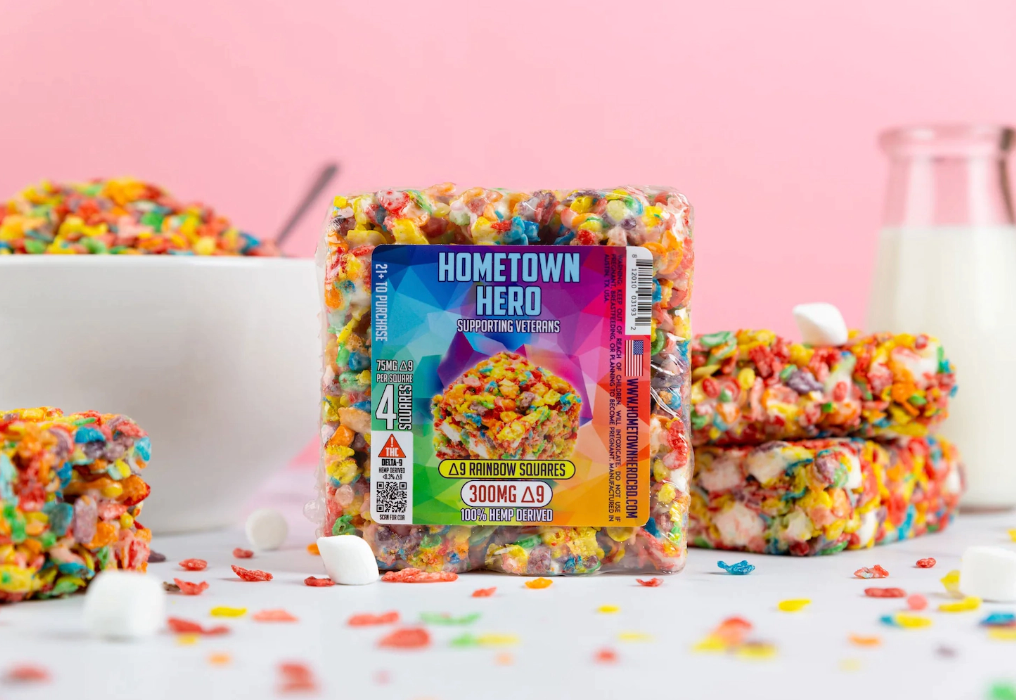 At the time of this writing, you can get the Rainbow Delta 9 squares for $36. Since their squares contain 3000 mg of Delta 9 THC that's about 83 mg THC per dollar! Normally Hometown Hero's Delta 9 baked goods squares cost $40, which is still an amazing deal at 75 mg of Delta 9 THC per dollar. On top of that, if you subscribe to Hometown Hero you can save an additional 15% bringing the cost down to $30.60 for 3000 mg. Considering Hometown Hero also donates a portion of its earnings to support veterans, you'd be hard-pressed to find a better deal that has such a huge positive impact on the world.

Hometown Hero Pros and Cons
Let's take a look into what makes Hometown Hero so great and a few things to consider before buying from them.
Hometown Hero Pros
Supporting veterans – I think the best thing about Hometown Hero is their dedication to supporting charities that help veterans. This includes helping them with healthcare, homelessness, PTSD, and other issues.
Fight the power – Hometown Hero is also extremely dedicated to legalizing hemp-derived THC products in all 50 states. They have won several cases against Delta 8 bans and will continue to fight for legality whenever prohibition rears its head.
D.E.A. level testing – Not many legal THC manufacturers can claim they have D.E.A. level testing. This ensures that every product they sell is under extreme scrutiny and will never be illegal or sub-par.
Worry-free guarantee – Hometown Hero is so sure you'll love their products that they offer a 14-day guarantee. If you don't like your product, they'll give you in-store credit to try something else.
Amazing customer service – They have an in-house team that is ready to help you and answer any questions you may have about hemp-derived THC products.
Sales and bundles – Check out their sales and bundles page to see all the opportunities for you to save money.
Subscription savings – Save even more money (up to 15%) when you subscribe to Hometown Hero's products.
Hometown Hero Cons
Cost for regular-priced items – Hometown Hero is not the cheapest hemp-derived THC manufacturer/retailer on the market. If you are interested in buying their products without any special savings you'll pay average to slightly above average prices per mg of THC. But remember, this may be due to their goal of giving generous donations to veterans' support charities.
Super potent edibles – This could also be a pro, but one thing I want to stress is the importance of keeping Hometown Hero's products away from children. With some products, like the baked goods squares, reaching as high as 3000 mg of Delta 9 THC, they can be dangerous to kids. Also, the fun colors and packaging may attract children's attention. Be responsible!
Not the biggest selection ever but… – There are other hemp-derived THC companies out there with a much bigger selection than Hometown Hero. To some that may be a con, but this can also be a positive aspect as it reduces choice anxiety. They also have this neat feature on their site where you can search for products based on their benefits like appetite, energy, focus, relief, and sleep.
Hometown Hero Alternatives
I've done the work of organizing my top 11 favorite Delta 9 gummies here for you, but if you aren't already convinced of how great Hometown Hero is, here are some of my favorite Hometown Hero alternatives:
Hometown Herwo Case Study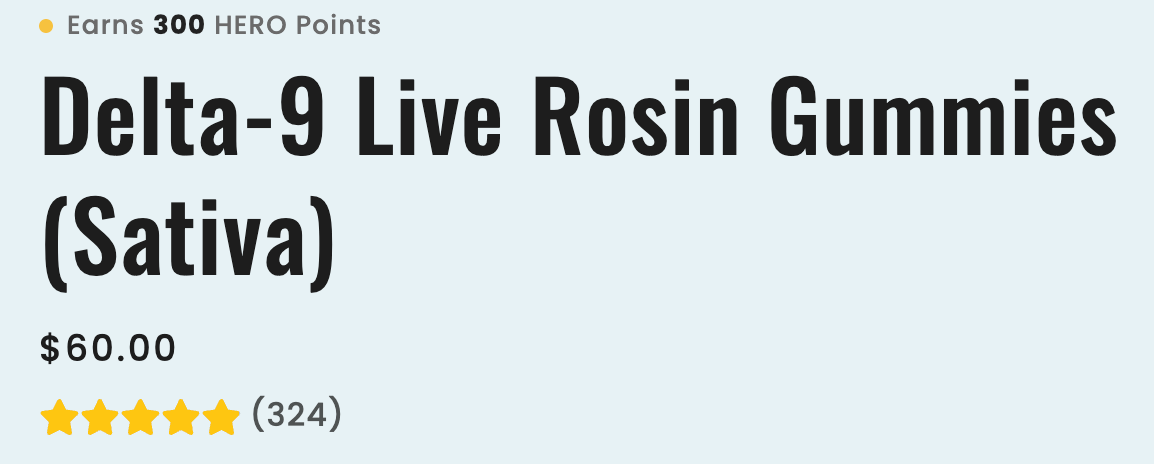 It's clear by now that I'm a huge fan of Hometown Hero, but don't just take my word for it. Let's look at their best-selling product: Delta 9 Live Rosin Gummies (Sativa). With over 324 reviews and a five-star rating, there's something special people love about these Delta 9 sativa live rosin gummies. You can see for yourself the honest reviews left by verified customers here, or check out these reviews:



My Experience Using the Hometown Hero
Every year my family and friends go on a lake house vacation, so naturally, I took advantage of Hometown Hero's discounts and I came prepared with all three baked goods, the Cinna Crunch, Rainbow, and Cocoa squares. IT WAS A BLAST! We split the 75 mg scored squares among ourselves, with two people sharing one square each, and that was enough to make each of us feel amazing. Towards the end of the night, we shared the same number of squares of the Cocoa version which contains CBD as well and drifted off to sleep (some of us under the stars).
I can't recommend this approach enough. If you're looking to have a good time with your friends and/or family, I'd urge you to try bringing Hometown Hero's baked goods squares to the party.
Conclusion: Should You Buy Hometown Hero?
Without a doubt, yes you should buy Hometown Hero. I highly recommend the baked good squares and their live rosin Delta 9 gummies, or if THC is not your thing but you still want to feel good, check out their Hometown Hero CBD products. When you buy from Hometown Hero not only are you going to feel good, but you'll also be supporting veterans in need. With their top-notch customer support, 14-day money-back guarantee, discounts, and savings on bundles, you cannot go wrong with Hometown Hero!
This post may contain affiliate links which means we may make a commission on purchases made through this article at no cost to you. It's how we keep the lights on and continue to provide the best content for you. Thanks!